Having Sex Without Having Sex Part 4
Note: The woman in the picture above is not me but it is an accurate representation of how I look when I'm doing science.
I think I was on the wrong track when I thought it might be accomplished in dreams. I think that my dreams have been trying to tell me this by being unusually quiet and/or unrelated to potential SWHS. I've decided that instead, SWHS is a meditation based practice. This seems obvious now I will share in depth once I've gathered more information. Here's a smaller subset (becomes unsure of what subset means, googles it, and ends up on weather.com) of Sex Without Having Sex: SWHSWPYKWDKY
Aka: Sex Without Having Sex With People You Know Who Don't Know You
Just kidding. That's a crazy title. And it also comes across sort of creepy. But hear me out. I feel more sexually connected to certain celebrities than some of the people I've actually had sex with. I'm not saying that we have some sort of preexisting sexual connection (except for you, Trent Reznor) but if unfamiliar sexual energies can bump into each other, as I believe they can, who's to say I couldn't "bump into" Allan Rayman's penis?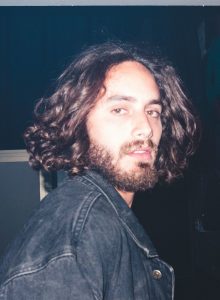 (Praise.)
As discussed in Q3, Day 47 SWHS cannot exist without both parties' awareness. In a celebrity situation one person enters the experience with way more awareness than the other. The solution comes down to odds. Let's say, for the sake of scientific nonsense, I am 40% aware of Allan and he is 0% aware of me. We should have a 20% chance of SWHS, right?
Wrong! Because SWHS is energetically unpredictable! Therefore, I have no solid conclusion. See you next time!